The benefits of self-healing concrete
One of the properties of concrete is that it cracks. With a proper design, this cracking can be limited, but even small (hair) cracks will cause problems. With Basilisk Self-Healing Concrete, both existing and new concrete structures repair themselves. This offers great benefits.
How does it work?
Basilisk has a number of unique products that enable self-healing properties of concrete. The technology is based on micro-organisms that produce limestone, as a result crack formation in concrete structures can be autonomously repaired. This way the durability of the concrete structure is greatly improved. The autonomous repair system is implemented in several products that are applicable for both new constructions and existing structures. Currently cracks up to 1 mm can be repaired with self-healing concrete, but the development goes on.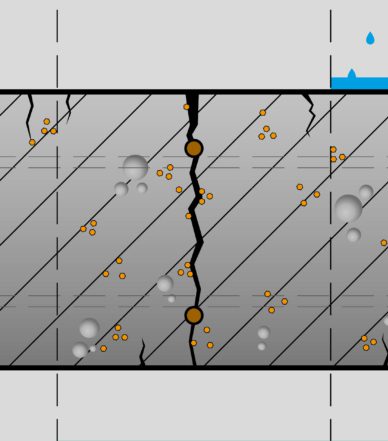 1. Concrete cracks
Cracking is an accepted and common phenomenon in concrete structures.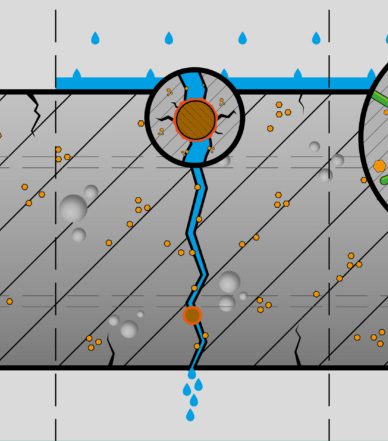 2. Leakage & corrosion
However, cracked concrete may result in serious leakage and reinforcement corrosion issues.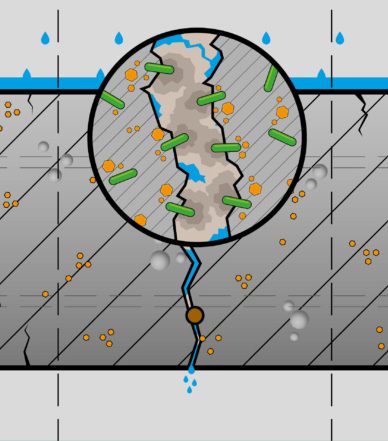 3. Autonomous repair
When in contact with water, the bacteria will multiply and start to produce limestone..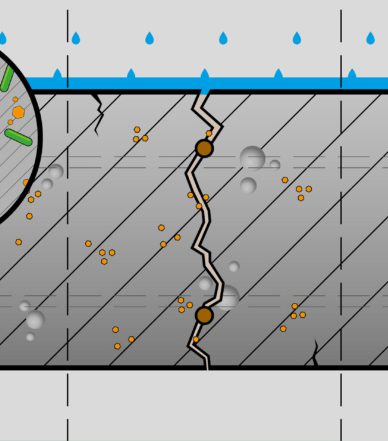 4. Cracks are sealed
Due to the formation of limestone, cracks are autonomously repaired, preventing leakage and protecting the reinforcement.
Latest news
Linda Koot
Self-healing concrete from Basilisk Self-Healing Concrete has been nominated for the Dutch Innovation Award 2022. In addition to innovative capacity, the positive impact that the innovation has on [...]
Linda Koot
This professional camera crew from AVROTROS is filming Bart van der Woerd, Managing Director at Basilisk, while he explains how self-healing concrete makes concrete a more sustainable building [...]
Preventing cracks and leakage of concrete
Sooner or later concrete cracks. This is a property of concrete that cannot be ignored when using concrete as a building material.
Cracks cause leakages and this causes corrosion of the reinforcement. The consequence? The durability of concrete decreases and the need for maintenance increases.
Basilisk's technology works with micro-organisms that are added to new or existing concrete. The micro-organisms produce limestone when they come into contact with moisture. In this way, cracks are sealed autonomously.
Basilisk offers various products that are suitable for both existing and new concrete structures. Basilisk Healing Agent can be added to the concrete mix, while other products are just suitable
as a repair agent for repairing cracks in existing concrete structures (Basilisk Liquid Repair System ER7 and Basilisk Repair Mortar MR3).The advantages of self-healing concrete in a nut shell: a first advantage of self-healing concrete is that it makes concrete waterproof because it seals cracks.
Another big advantage is that 40-50% less maintenance of concrete is required. This results in lower life cycle costs.
Furthermore, self-healing concrete also has an advantage for the environment because it ensures a reduction of up to 30-50% of the CO2 footprint. In this way it contributes to a more sustainable world.
Finally, larger crack widths can be allowed in new designs. As a result, shrinkage reinforcement can be reduced and CO2 emissions and costs are reduced.